About Stafford Strength & Head Personal Trainer, Matthew Flaherty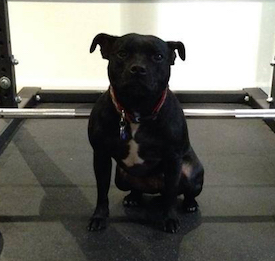 The inspiration for the Stafford Strength name comes from an adorable young Staffordshire Bull Terrier named Wednesday. Although she may look like a cute little sweetheart, Wednesday is: "Strong like Bull!"
True strength doesn't always have to be big and brutish; it can be lean and agile. Speed and accuracy can unlock the power that makes the difference over a competitor. This is a lesson for anyone intimidated by strength training and weightlifting: it's not all about having big burly muscles.
WHAT YOU WILL GET FROM INCREASED STRENGTH TRAINING:
Increased Energy
Increased Stamina
Reduced Risk of Injury
Improved Body Mass Index (BMI)
Reduced Risk of Heart Disease
Reduced Risk of Obesity/Type 2 Diabetes
Greater Feeling of Wellbeing
WORKING WITH A PERSONAL TRAINER CAN HELP ACHIEVE TARGETED GOALS
Stafford Strength has been recognized by their athletes for providing goal focused and challenging training sessions. Our highly educated coaches work with each athlete providing result driven programs. Depending on what you want to achieve, Stafford Strength can help you with the following:
Weight Loss
Muscle Tone/Building
Improved Sports Performance
Improved Golf Game
Ability to Lift More Weight
Better Nutrition
Unlike other trainers that provide cookie cutter workouts that are not designed with you in mind, Stafford Strength coaches take the time to discover how to unlock your potential. Based on goals, needs, and wants, we help our athletes succeed in their given sport and separate them from their competition.
Wednesday's owner, personal trainer Matthew Flaherty, is the founder of Stafford Strength. He is one of New York City's most sought after Certified Strength and Conditioning Specialists (CSCS). With a Masters Degree in Exercise & Health Promotion and dozens of certifications (see below), Matthew has helped hundreds of people turn their lives around and achieve their fitness and life goals.
Matthew began competing in Martial Arts and earned his 4th Degree Black Belt in TaeKwonDo. He was an athlete in high school before ultimately pursuing exercise and health in higher education. Along the way he has tried a wide range of techniques for achieving optimal fitness. Matthew has found particular success working with powerlifting and kettlebell training. Read testimonials from some of his satisfied clients. Matthew also specializes in sport specific training, for example golf performance. He is also a certified nutrition coach through Precision Nutrition. The principles he has learned can be applied to virtually any sport or fitness goal. After 10 years as a personal trainer in the fitness industry, Matthew is still a student of strength and looks for new ways to help his clients achieve their goals. Fill out the form in the footer for a free consultation!
Certifications
---
---
---
---
---
---
---
Functional Movement Screen (FMS)

Certification
---
---
---
---
---
---